Are you guys ready for the surprise?
Mcd has made an effort to have an event in Town last week, with a special Bus of their own, and even a web page!
http://mcdwin.com/home
Now, the curtains unleashed!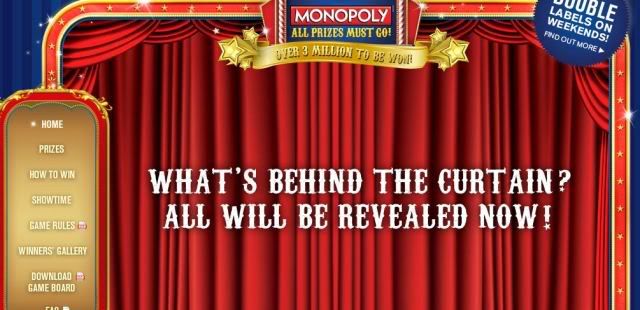 The Monopoly game!
Remember this? I bet all Singaporeans will know this, cause this is the 3rd time(so far as I can remember) they are having this game event!
All you have to do is collect the stamps, and paste them on the Gameboard!
Download game board here!
http://mcdwin.com/files/Gameboard.pdf
Prizes include:
1x $80000 Cash by Visa
1x Volkswagen Touran
1x Dynasty Travel Holiday to Prague
1x Coca cola holiday to Atlanta
25x Macbook Air By Nestle
45x Flowriding by Wavehouse
150x $200 Denizen Vouchers
200x Movie Cards by We Cinemas
And many more Instant win prizes!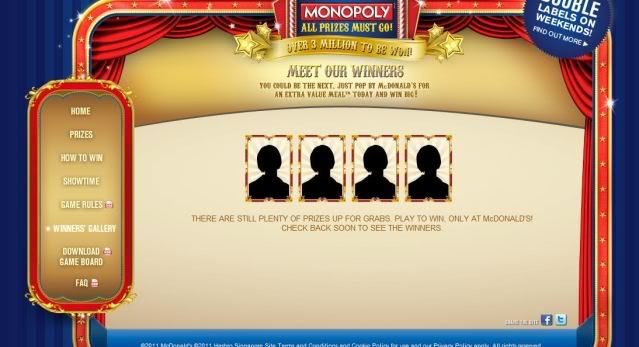 They even have a 'hall of fame' for people that won!
So good right? Win prizes + get your face displayed in public! All that fame and $$ :)
Always wondered why the mcd staffs gives 2 stamps, sometimes none, and even 4?!
Here's why:
http://mcdwin.com/files/GameRules.pdf
So hurry, get down to your nearest Mcd to purchase meals, and win prizes!
*prays that I will win the Macbook Air* *hints*
Xoxo