Hello!
After having to pluck up my courage, I decided to blog on my recent teeth whitening experience!
Firstly, I have to thank
Peggy
for letting me have the chance to have pretty teeth,
Fabulous Smile
for the kind sponsorship, and
Jann
for helping me take pictures throughout the treatment!
The shop was situated opp Bugis Junction (super easy to locate) and it has parking lots for people that drives!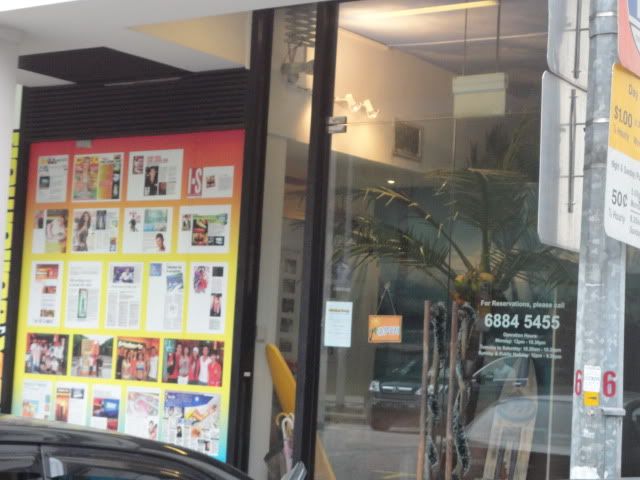 Jann and I entered the shop, and the staffs greeted us with a wide smile! :D
Here's
ONE
pic of the treatment.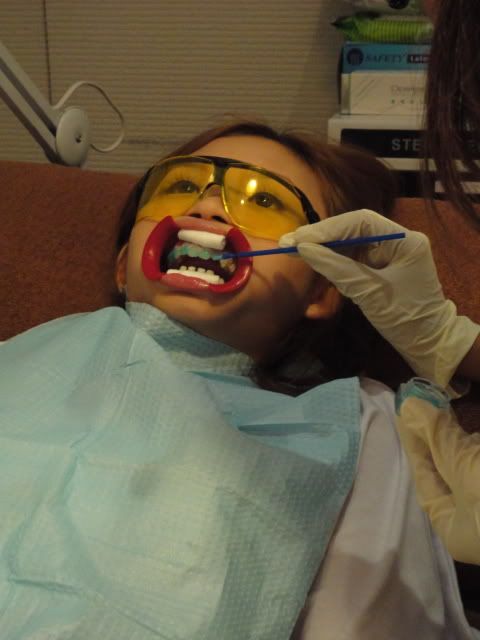 YES, YES. Super unglam, I know. That's why I only post one pic :x
And it's gonna be extra small.
Jann took like a whole lot of them, but srsly, they are too ugly to be blogged!! :(
Thank god I didn't bring my bf along, else he would be there to witness the whole process of my mouth opened
widely
.
Let me briefly explain the whole procedure.
1. They would hand you a mirror and show you the shade of your teeth before treatment, and would tell you roughly how it will be aftermath.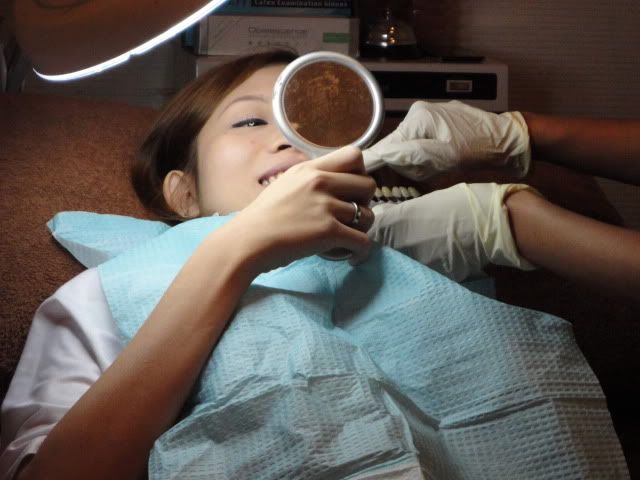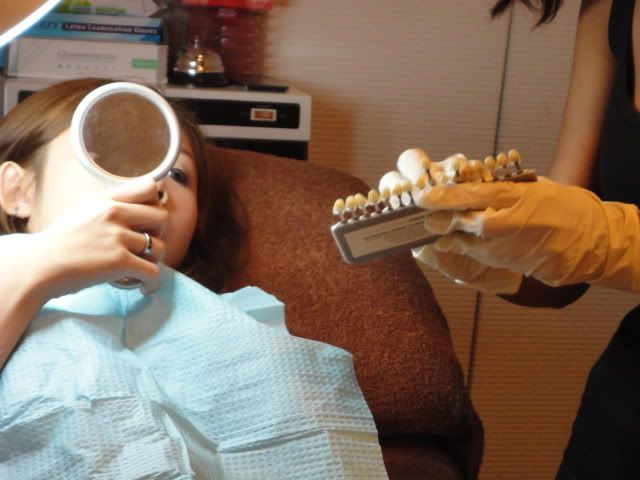 2. Apply gel on your lips (your mouth will be in that whole 'widely-opened' posture for an hour)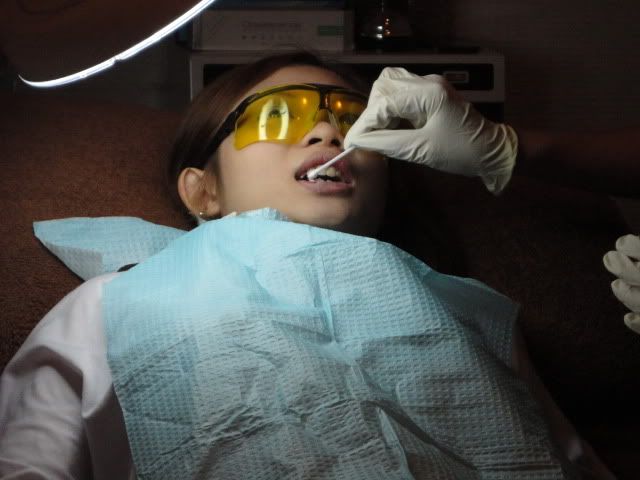 3. Add the sponge to absorb your saliva
4. Do a bit of scraping (just in case you ate before the treatment)
5. Suck away the remaining dirt and saliva from your mouth.
By now it would be 15 min, no pain yet.
6. Applying of blue gel on each of your teeth. No pain
7. Shining of UV on your teeth for 15 min.
From this part onwards, there will be a bit of tingling sensation, like as if you have sensitive teeth, and you ate ice cream. Bearable, but it gets more and more 'painful' throughout.
8. Sucking of the gel from your teeth and saliva. A bit of pain experienced, but not as painful as 7.
The whole process of 6-8 will repeat for thrice, 15 minutes each.
9. Guggle all the gel away!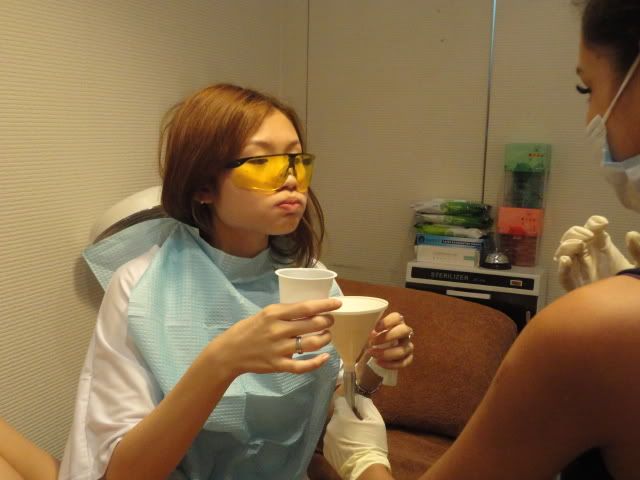 And... TADA!
My
pretty teeth
after the treatment!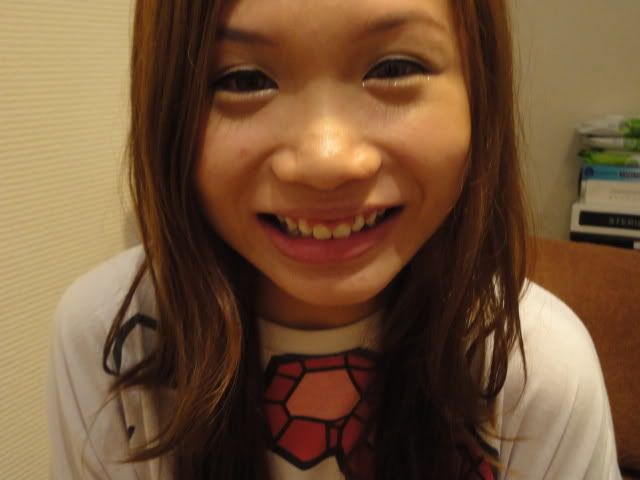 The shade difference for my teeth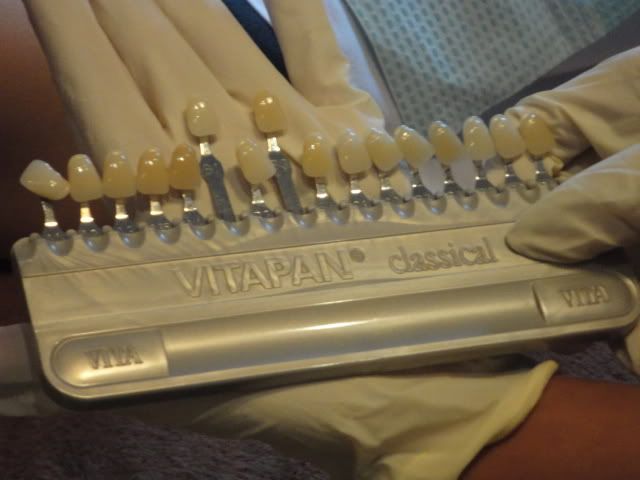 They even gave me a membership card!
Equipments used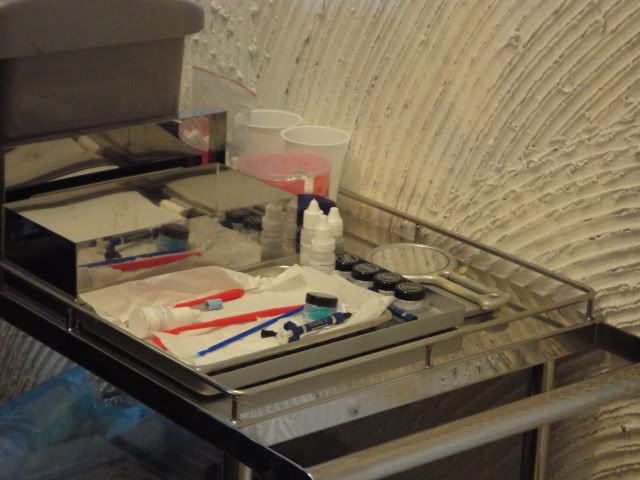 Now I can have white pretty teeth too!! :D:D
CLEO:
http://www.askcleo.com/index.php?option=com_idoblog&task=userblog&userid=92612&Itemid=0&Itemid=61
Xoxo